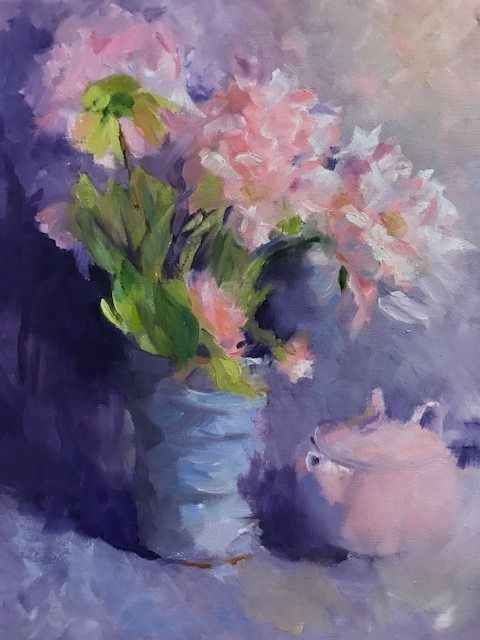 I grew up in Minnesota where, as a child, I fell in love with the beauty of flowers, the landscape and all four seasons. My
mother loved art, music and flowers which she grew in a large fenced-in flower garden, safe from rabbits but not Minnesota gophers. My first paintings were "paint by number" which, quite amazingly, taught me to understand how to render lights and shadows--dimension. As a very young child I was immensely intrigued by the art on Currier and Ives Christmas cards and illustrations in children's books. Those illustrations made the story even more fascinating. Unfortunately my mother died shortly after I turned 10 and I lost her inspiration and mentoring. School became my place of joy. Luckily my home economics teacher taught art principles through Interior Design. I still remember my design board as it was truly a success, an A+.

I have undergraduate and graduate studies in teaching, interior design and fine art. To make a living in the sixties, about the only careers open to women were teaching, nursing, or being a secretary. I chose teaching though I tinkered with oil painting as early as 1968. But being both a teacher and a young mother, painting had to wait until 1998 when I was able to pursue my art career full-time. Some of my art study has been with painters including Lois Griffel at the Cape Cod School of Art in Provincetown, Massachusetts, James Richards, James Kroner, Ned Mueller, Eric Michaels, Ken Auster, Carolyn Anderson and others. I have spent years studying and understanding the art of painting and its many element, believing in continual study through classes, workshops, museums, travel and art books.

My style is both Impressionistic and Representational. Impressionism require knowledge of the balance between light and form, color and value, and perspective. I use both a palette knife and a brush to get textural interest and strong paint quality. I paint mostly Still Life though I have few borders to what I choose to paint.